Offutt Air Force Base - Airmen Leadership School

 ➥  Projects  ➥ 

Offutt Air Force Base - Airmen Leadership School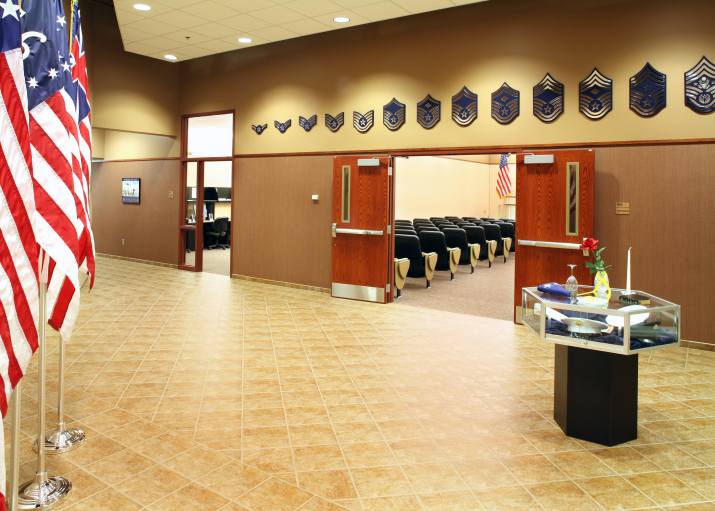 This project renovates the former Strategic Air Command Museum, which had relocated off-base.  It now houses the Offutt AFB Airman Leadership School (ALS).  Because this building was originally designed to display historical aircraft, it has a tall interior volume, about 22 feet from floor slab to roof deck. There is also a small mezzanine area located above main level mechanical and restroom areas.
The Airman Leadership School creates a multi-use facility that is visually stimulating and attractive, yet responsive to the need for quiet and relaxation appropriate to teaching and learning activities. The facility also makes a statement about the intent of the Airman Leadership School educational process, installing a sense of pride and purpose in all the students and faculty that use it.  Classroom finishes and furniture create a learning environment that is stimulating and a space that is flexible to accommodate changes as new requirements arise. Study areas provide quiet spots for students to work alone or interact in small groups as required.   The Auditorium design creates a formal learning and lecture environment for students. 
Since the building was designed originally as a museum, there are few windows to view the outdoors. In order to foster a feeling of spaciousness and openness, there are numerous clerestory windows added between rooms. Also, high ceilings add to the feeling of spaciousness. At the Heritage Hall and Student Lounge, the acoustical tile ceiling does not touch the wall, but is divided into smaller "floating clouds" that give an even greater illusion of height.