Omaha Public Schools - Western Hills Elementary School

Omaha, NE
 ➥  Projects  ➥ 

Omaha Public Schools - Western Hills Elementary School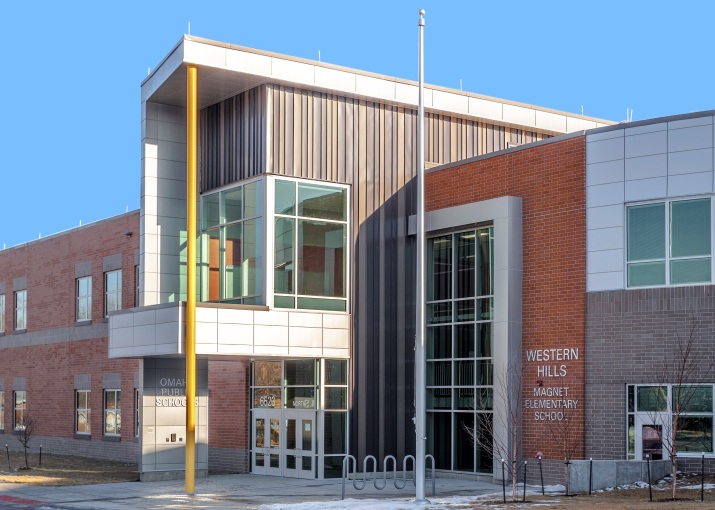 The existing school sits on a 9-acre site at the corner of Western Avenue and 66th Street and serves a diverse student population from over 45 different OPS attendance areas. The site is surrounded by single family residences, and includes six portable classrooms located to the east of the building.
This will be a 79,000 SF, 600 student school, which is designed for Pre-K through Grade 5, with 3 sections per grade. The original building was constructed in 1951 and will be replaced by the new school. This school has a reputation for high academic standards, and is a magnet center which draws students from throughout the city. Construction will begin after the 2015-2016 school year.
Approximately half of the site is an open play area surrounded by a walking
path and mature trees. This area has taken on the status of a neighborhood park, as it provides needed open space in this urban setting. The parents and other neighborhood volunteers have developed outdoor gardens and other landscaping around the school that is important to them. There was a lot of concern by the neighbors as to what would happen on this site relative to the existing trees, the position of the new facility, and the status of the open space. KHA worked diligently with OPS, acobs, and the neighborhood to create the solution that meets (and exceeds) the needs of Omaha Public School District, and also is appealing to the neighbors.
In order to maximize the amount of open space that is available, we have minimized the footprint of the building by designing it to be 2 stories. Due to the amount of slope on the site, we arranged the design to have walkout entrances on both the upper and lower floors. One side is for buses and the other is for parents, staff, and visitors.
The design includes numerous features to allow flexible teaching styles and diverse learning opportunities:
Numerous collaborative learning spaces for small, medium, and large groups.
2 outdoor learning spaces
Abundant green space and walking paths connecting community and school
Large classrooms to enhance various learning styles and methods
Dedicated lab for Science, Technology, Engineering and Math (STEM) courses and hearing impaired programs.
Incorporation of sustainable design practices to construct a 21st Century school, which will be adaptable to an ever-changing educational environment.